AMI Chief Executive, Lucy Harper, has spoken about the benefits of sponsoring a DaphnJackson Fellow.
The Trust, which supports scientists and others who have taken a significant career break to return to research, held its 2022 conference, Overcoming Barriers and Making An Impact, at the Royal Society on November 10.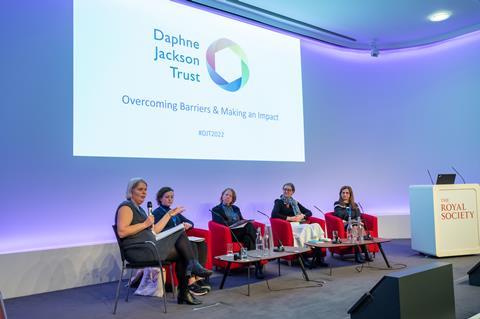 The Trust partners with universities to host fellowships which allow researchers to return to academic life.
Among many key speakers, the conference heard from AMI's Dr Lucy Harper and Dr Banaz Star-Shirko, whose Daphne Jackson Fellowship at the London School of Hygiene & Tropical Medicine in the Department of Infection Biology is sponsored by AMI.
Dr Star-Shirko recently returned to research after an eight year break with a project entitled: Investigating the Chicken Gut Microbiome to Understand Campylobacter Prevalence and Mechanisms to Implement Intervention and Control Strategies.
"I was there talking about how we came to the decision to sponsor a Fellow, and our Fellow was there, talking about her experiences of the fellowship so far," Dr Harper said.
"Their last conference was held in 2019 and the AMI Policy team were there with me. We were really impressed by the impact that the Daphne Jackson Trust fellowships have on their Fellows as well as their energy and determination.
"The Daphne Jackson Trust are very clearly aligned with our values of inclusivity, meaningful collaboration, scientific rigour and pushing forward. That was one of the key arguments that we made to our trustees in support of sponsoring a Fellowship.
"We also support people at various stages of their career and I think this is a really good example of providing support to somebody at any career stage.
"One of the speakers made the point that a career break can enable people to gain a lot transferable skills. It's good to see that those at the top of the funding chain are looking at these more diverse career paths and seeing them as just as valid as the linear undergraduate to post-grad to Lecturer to Professor route."
Among the speakers were Dr Hamied Haroon, chair of the National Association of Disabled Staff Networks; Dr Karen Salt, deputy director of Culture and Environment, UKRI; Professor Dame Ottoline Leyser, chief executive of UKRI; and Professor Dame Athene Donald.