Louise Hill-King, Careers Editor for The Microbiologist, asks microbial ecologist and author Jake Robinson about his journey to getting Invisible Friends published.
What inspired you to write a book?
Gaining a greater understanding of the weird, wonderful and life-sustaining roles that microbes play in our lives and ecosystems inspired me to write this book. I grew up, as many other people do, learning about how microbes are nasty, disease-causing organisms that should be banished from our lives. But this couldn't be further from the truth. Of course, a few microbes do cause devastating illnesses. Still, the overwhelming majority have core functional roles in all aspects of our lives, from providing the food we eat and shaping our immune systems to influencing our behaviour and health in various positive ways. This book aims to flip the 'microbes as the bane of our society' narrative on its head and hopefully change how some people 'see' the unseen.
Was it a case of writing about what you already knew, or having to gather lots of new information?
I began writing Invisible Friends in the final year of my PhD at the University of Sheffield, UK. The book is a concoction of science, journalism and personal memoir. Luckily, when it came to the science and personal memoir elements, I could free two birds with one key. Essentially, I wrote about my practical research experiences in microbial ecology. I was also fortunate to collaborate with a diverse community of international researchers on my PhD journey, and reaching out to as many people as possible is something I highly recommend to new PhD students. These collaborations helped me generate a bounty of ideas for the chapters of Invisible Friends. So, some of the work was based on what I already knew and what I was learning during my PhD, while other stories were gathered from scientists around the world who work on diverse microbiology topics.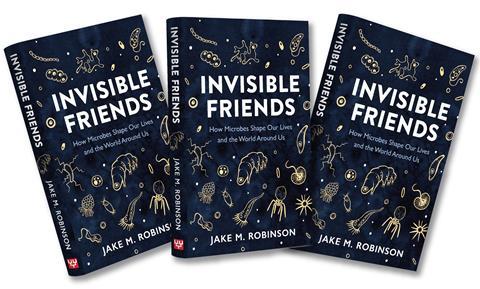 How did you go about getting a publisher?
I was incredibly lucky to be approached by my publisher, so this made things much easier for me. However, during the book-writing process, I endeavoured to make myself and the book as visible as possible – which probably helped me get identified by the publisher. I set up a website, wrote blog posts on my research and linked it all to the book. I'd encourage those who are hoping to write a popular science book to do the same – collaborate with as many people as possible and make yourself and your work visible.
What was the most challenging part of the process?
I enjoyed the whole process of writing the book. But initially, the biggest challenge was setting aside a period each day to write and turning this process into a ritual. Once you get into the flow, it becomes far easier. I also found the home environment to be quite uninspiring. So, I packed up a flask with some tea, grabbed a camping chair and started writing outside in the natural surroundings. Sometimes I'd sit on top of a cliff, and other times, next to a trickling stream in a forest. I found this to be inspiring, and it blocked out the ravaging noises of the modern world.
How did you juggle your other commitments around it?
Time management is always important, but in terms of juggling my other commitments around the book-writing process, I found it useful to include those other commitments in the book itself. Writing about the things I was already researching made this process more manageable and enjoyable. Setting aside a period for writing each day, even if it's 30 minutes, is key. A consistent writing routine can help you focus, increase productivity and build a writing habit that will carry you through more challenging times. But I think it's also important to take time to relax and do mindfulness activities to prevent burnout.
Was it all worth it when you finally had a hard copy in your hand?
It was a great feeling to finally receive the hard copy of Invisible Friends. It took me about a year to write it, but then it took another year to go through the publishing process. The end feeling was a concoction of excitement and relief!
Any words of wisdom for other scientists thinking of launching into writing a book?
Here are a few tips for budding popular science book writers:
Identify your passions and create an inspiring writing environment (in addition to having a consistent routine).
Try writing as much as possible, even if it's scribbling down thoughts, writing a poem etc., as this will keep you in the writer's mindset.
Try not to worry too much about the quality of your writing to begin with, as this can lead to the dreaded 'writer's block'. You can refine and poeticise it later.
And finally, remember your purpose and enjoy the process!
You can find more about Jake and his research at www.jakemrobinson.com, and his book is available to purchase from Amazon (from 13 April 2023 in the USA), Bookshop.org and other reputable suppliers.