The India-UK Workshop on Women Entrepreneurship, held 20-21 February 2023, brought together 60 graduate and postgraduate microbiology and biotechnology students in India. The workshop was organised by the Department of Microbiology at Chaitanya University, and was supported by Applied Microbiology International, UK.
The workshop's aim was to discuss women's entrepreneurship and share their experiences with starting companies in India. The workshop was structured around promoting entrepreneurship through Start-up India programmes as well as other opportunities, as this region is currently undergoing a period of significant reform.
In India, very rarely will the graduate or postgraduate curriculum be updated with advances in science or current affairs. The topic of entrepreneurship is not covered on the regular curriculum, meaning that this workshop adds value to both the student's skills and career. The workshop gave students an introduction to opportunities in entrepreneurship and in establishing companies in the future. The current biotech landscape supports new entrepreneurial skills and start-ups in India.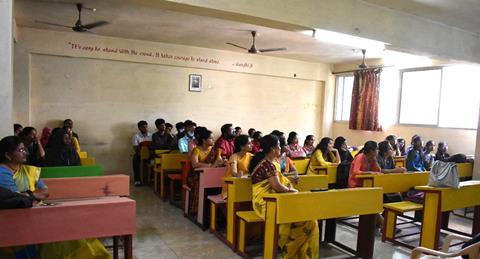 India is currently promoting entrepreneurship through Start-up India programmes and funding through Indian Government Schemes - for example, the Biotechnology Ignition Grant (BIG) funded by the Biotechnology Industry Research Assistance Council (BIRAC), a spin-out of the Department of Biotechnology, Govt of India. Our India-UK Workshop on Women Entrepreneurship with Chaitanya University helped to create awareness of applied microbiology projects, the student's potential to apply for such grants and launch new start-ups of their own. Under the Start-up India initiative, eligible companies can become recognised as start-ups by the Department for Promotion of Industry and Internal Trade (DPIIT), in order to access a host of tax benefits, easier compliance, IPR fast-tracking and more.
The primary objective was met by providing an overview of the formation of new start-ups and by discussing funding opportunities available from the Indian government. The primary focus was on knowledge and understanding of the Indian start-up sector, incubation and funding opportunities for new start-ups. In addition, the workshop provided an overview of the formation of new start-ups and encouraged students to start new biotech companies.
To inspire students during the workshop we discussed several biotech companies in India and the UK as an example (Shantha Biotechnics (India); Epoch Biodesign (London); Aber instruments (UK)) and covered challenges associated with starting and managing companies. The workshop was also designed to motivate students to understand the purpose of start-ups, how to run new businesses, choosing scientific mentors and also included discussions on international collaboration and networking. To engage the students, we organised a competition for company ideas, and prizes were distributed for those judged to be the best.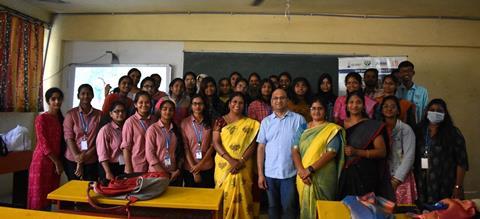 Case study and outcome of previous ICB Course
Mrs. Samatha Paladugu and Mr. Sarepalli Sai Sathwik (postgraduate students of Chaitanya - Deemed to Be University) attended a previous SfAM International Capacity Building course in 2019. As a result, Samatha and Sathwik started a startup company called Prameela Life Sciences Private Ltd and are currently doing collaborative work with Phytoquest Ltd, a company in the UK. Recently they obtained a startup seed fund support from the Biotechnology Industry Research Assistance Council (BIRAC), a spinout of the Indian Government's Department of Biotechnology. This support was organised through the Society for Innovation and Entrepreneurship (SINE) at the Indian Institute of Technology (IIT), Bombay. Further they were also able to distribute their company product and received good feedback from workshop participants.