Picture the following scenario. A young undergraduate student in Microbiology has just joined a well-established research group based in a renowned institute at a major university in a Western European country.
This undergraduate student is gay and cis, is open about his sexual orientation, and is quite a fierce activist in 2SLGBTQIA+* rights, being involved with several internal actions building respect and a sense of belonging for his academic community. He is excited about developing his final-year project in this research group and is eager to pursue a PhD afterwards under the supervision of the group's PI. Additionally, he had heard that several group members, including the PI, are actively engaged in equity and diversity matters on social media and appear to be welcoming to members from minority groups. Everything seems to be perfect.
*2SLGBTQ+ is an acronym that stands for Two-Spirit, Lesbian, Gay, Bisexual, Transgender, Queer or Questioning and additional sexual orientations and gender identities
However, the sweet dream sours into an intoxicating nightmare. The daily homophobic attitudes disguised as 'little and relaxed jokes (aka microaggressions) by various lab members were manageable. However, two weeks before the end of his project, the PI openly admitted that he voted against including 2SLGBTQIA+ candidates among one of the minority groups in the next round of the PhD selective process for the departmental postgraduate programme. This was the final straw. The young undergraduate student finished his project, fully unmotivated, having lost the excitement of pursuing a PhD. He gave up on pursuing an academic career.
Unfortunately, this short story is not uncommon. For those even based in countries and institutions that are (apparently) progressive, there is a research culture that ignores the importance of creating safer and minimally comfortable spaces for LGBTQ+ researchers. This often leads talented scientists to quit academia, where they have been marginalised and discouraged to manifest their sexual orientation or be ashamed of their gender identity in their workspaces.
While a broad discussion has recently arisen regarding the need for the inclusion of all minority groups in academia, the representation of the 2SLGBTQIA+ community has been scarce in science, technology, engineering, mathematics and medicine (STEMM) fields. Several transdisciplinary network organisations have started and successfully consolidated themselves in the second half of the 2010s but this 'invisibility' of the 2SLGBTQIA+ community was present in Microbiology until the last few years. These efforts began in an isolated manner by a number of academic societies and organising committees of scientific conferences, mostly as LGBTQ+ networking events, which were extremely well received and praised by their attendees. There was a mutual feeling that they were being heard for the first time, where their issues were finally being addressed and with a hope that actions could be taken to address them. Furthermore, it was clear that all of them belonged to a much wider community that just needed to be connected and, once together, they could work together to build space for themselves in STEMM.
The Pride in Microbiology Network was born from the connection of former organisers and other active scientists already engaged in these LGBTQ+-promoting activities within microbial sciences. Sparked by one September editorial published by Nature Microbiology, Amplifying diverse voices in Microbiology, we wrote to the journal's editor stating that the 2SLGBTQIA+ community should also be part of the efforts to promote diversity under the underrepresented groups in all Microbiology fields. After positive feedback from Nature Microbiology, what began as a comment piece about placing our community in the spotlight, turned into the creation of the Pride in Microbiology Network. The network is a way to empower 2SLGBTQIA+ microbiologists in a community-driven effort. The effect of that was tangible by the community excitement on social media on the day the correspondence was published, with the article getting an Altmetric score of 197, and it has been accessed 1245 times.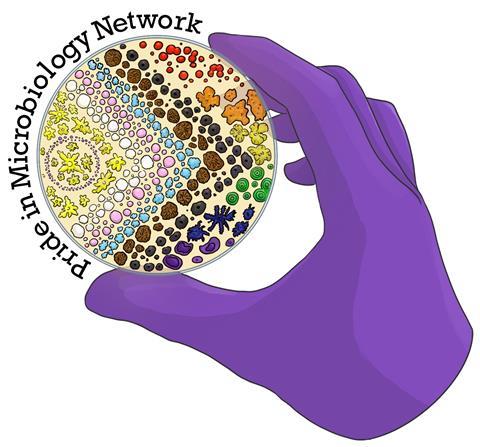 The Pride in Microbiology Network is driven to build a community and overall mentorship capacity for 2SLGBTQIA+ folks, ultimately to enhance justice and belonging among 2SLGBTQIA+ in microbiology working in academia and industry. To fulfil this, we have set up a platform where 2SLGBTQIA+ microbiologists can easily connect with each other, where they can directly change experiences about the challenging issues they face in their working environments, and even establish research collaborations according to their common interests. Two of our main courses of action will be to showcase the cutting-edge research of 2SLGBTQIA+ microbiologists regardless of their area of expertise, and featuring microbiology-associated studies relevant for the 2SLGBTQIA+ community. Finally, we expect to create a space where new policies in favour of the community could be advocated and even delineated in the hope of guaranteeing less disparity in key processes, such as grant submissions, and fighting for more work opportunities for still-marginalised and neglected groups even within our community.
In the long term, the Pride in Microbiology Network aims to function as a resource for inspiring these young and gifted in-training microbiologists to follow their career prospects with no need to enclose or restrict themselves for what they are. Our sexual orientations and gender identities should be respected and embraced as part of our real strength to generate good-quality and high-impact science. Microbes, although remarkably small individually, have taught us that together they are the ones who truly rule the world. United, they support our existence on Earth. The vision of these unified microbes is one we intend to embody with the Pride in Microbiology Network.