Existing flu vaccines are only ~40-60% effective at reducing the risk of serious illness. While any level of protection against influenza viruses is better than none, there remains a lot of room for improvement of future vaccines.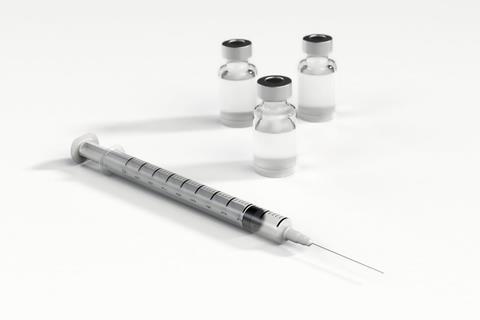 The Precision Vaccines Program (PVP) at Boston Children's Hospital has been awarded a Vaccine Adjuvant Development Program contract (75N93023C00040) from the National Institutes of Health (NIH)/National Institute of Allergy and Infectious Diseases (NIAID) that can extend up to 5 years and $9 million, to develop a small molecule adjuvant to enhance the effectiveness of flu vaccines.
In collaboration with Inimmune, a biotech company based out of Missoula, Montana, the PVP engineered PVP-037, a novel imidazopyrimidine small molecule that activates a white blood cell receptor called Toll-like receptor 7/8 (TLR7/8) and shows promise as an immunomodulator, or a molecule that changes the body's immune response.
Building on this achievement, the team is committed to refining the adjuvant molecule and optimizing its formulation to enhance vaccine efficacy and durability. This adjuvant approach will be first applied to protein-based flu vaccines, but could be expanded to improve other platforms, such as mRNA vaccines.
Safeguarding health
"PVP is dedicated to safeguarding public health through cutting-edge research and development. This NIH funding represents a significant milestone in the quest to enhance flu vaccine efficacy, ultimately strengthening our collective ability to combat seasonal influenza," said Ofer Levy, MD, PhD, the director of PVP.
David Dowling, PhD, a PVP faculty member who is joint principal investigator on the project stated: "Our innovative precision adjuvant discovery approach, focusing on advancing tools that best serve vulnerable populations, culminated in the invention of the PVP-037 family of adjuvants. We now look forward to the opportunity to develop this molecule as a lead adjuvant to enhance activity of influenza vaccines for all age groups. "
Led by Drs. Levy and Dowling, the project will advance the synthesis, formulation, and pre-clinical evaluation of PVP-037 small molecule in human cell culture and animal models. This comprehensive approach aims to position the molecule for an eventual clinical trial.
Partnership approach
In addition to Inimmune, the PVP will be supported by teams at Brigham and Women's Hospital, The Dana-Farber Cancer Institute, University of Maryland School of Medicine, and the International Vaccine Centre at the University of Saskatchewan.
"Inimmune is excited to expand our long-standing and productive collaboration with Boston Children's Hospital towards the advancement and clinical evaluation of novel vaccine adjuvants. Inimmune will assist with the process-development and manufacturing of a novel synthetic adjuvant and formulations selected for clinical development in collaboration with Boston Children's," said Jay Evans, PhD, Chief Scientific and Strategy Officer at Inmmune.
The molecule that Inimmune and the PVP are creating could increase the magnitude of the body's immune response to vaccines, enabling shots to protect against more variants and eliciting better protection for vulnerable populations, such as people with weakened immune systems. "By enhancing the effectiveness of vaccines, we can fortify the defenses of those who need it most, ensuring a safer and healthier future for all," said Dr. Levy.