Water in the UK's largest freshwater lake needs to undergo routine testing for cyanobacteria species in the future, following a devastating bloom, scientists have warned.
Parts of Lough Neagh, which supplies around 40% of Northern Ireland's drinking water, have been mired in thick green sludge following a massive bloom over the summer months.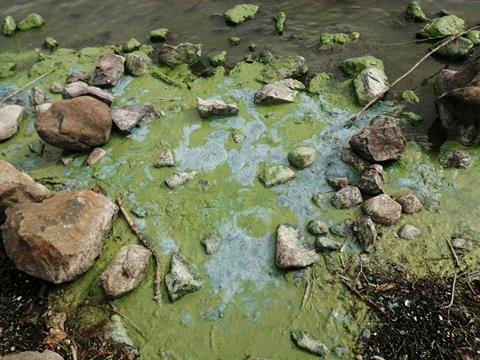 The blue green algal bloom first appeared in June, then retreated before returning in July and spreading to the point where it could clearly be seen from European Space Agency satellites. Beaches on the north coast were also affected earlier this summer, with warnings issued to users.
Steering group
The Department for Agriculture, Environment and Rural Affairs, which oversees agriculture as well as environmental and marine issues, says it is forming a Water Quality Steering Group.
Lough Neagh is hypertrophic according to the Agri-Food Biosciences Institute, which means it has a very high nutrient concentration which has helped blue-green algae thrive. It is also rated 'bad' ecologically by DAERA.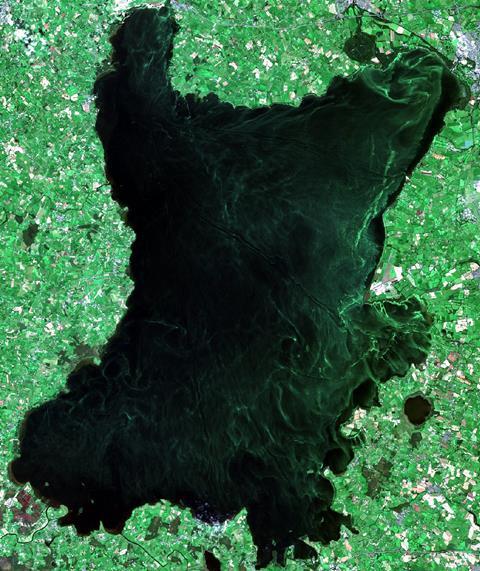 James Orr, Northern Ireland director of Friends of the Earth, said toxic blue-green algal blooms have hit Northern Ireland this year with a bang.
"Tipping points have been reached for lakes and rivers because of years of government failure to tackle nutrient pollution from agriculture and sewage," he warned.
Cyanobacterial cells
Katrina Campbell, Professor in Food Security & Diagnostics with the Institute for Global Food Security at Queen's University Belfast, said the blue green algae in Lough Neagh are accumulations of cyanobacterial cells which exhibit a blue green colour when they collect in large numbers.
"There are numerous species of cyanobacteria that can be found naturally in the freshwater environment and are a part of the natural food ecosystem whereby they are food for higher species," she told The Microbiologist.
"However, some of these cyanobacteria produce what are termed natural toxins. These toxins can be extremely potent and are linked to be carcinogenic. As such there are concerns that if the blooms are toxic that fish may contain some of the toxins. Similarly, the blooms can utilise the oxygen in the water which may then lead to suffocation of fish and fish kills if the oxygen levels become too low for their survival."
Naturally occurring
Professor Campbell said the blooms are naturally occurring, and different species of cyanobacterial cells normally tend to frequent freshwater systems throughout Ireland.
"However, for a bloom of this extent a combination of factors has come together to cause the growth of the bloom in Lough Neagh," she said.
"Weather for example is a key player: warmer temperatures and increased rainfall causing runoff from agricultural land and storms increasing higher foliage loads in the water, increasing the nitrogen and phosphorus content in the water. Pollution can also play a role, including sewage overflows increasing the nutrient content of the water."
Toxin concerns
Professor Campbell said that to the best of her knowledge it had not yet been proven whether these blooms in Lough Neagh are toxic or not.
One concern is that microcystin toxins could be present in the water - these are known hepatotoxins affecting the liver and which have now been named in the new EU drinking water directive which entered into force in the EU in January 2021.
EU member states have to implement this drinking water directive by January 2023, but analysis for microcystins must be implemented by 2026 as outlined in part B of this document.
Drinking water laws
This document is the EU's main law on drinking water and concerns the access to and the quality of water intended for human consumption to protect human health, but as the UK is no longer part of the EU, this may take longer to implement," Professor Campbell said.
"Currently, to the best of my knowledge, it has not be proven as to whether these blooms in Lough Neagh are toxic or not. Microcystins are not the only toxins that may be present. Anatoxin, for example, has been linked to the deaths of dogs in freshwater bodies also. Rapid methods of analysis need to be implemented here to ease public concern," she said.
Professor Campbell said it is important to be cautious until we know more and understand the situation fully.
"Testing of the water to identify the species causing the blooms should be implemented immediately and thereafter routinely to understand if the blooms are toxic or not and their pattern of reoccurrence for the future," she said.
Clear communication
"The authorities should respond with clear communication to the general public and should implement testing of the water to understand the cyanobacterial species present in the water and if these species are toxic or have the potential to be toxic.
"Other factors should also be tested to understand the quality of the water to determine if there are other mitigating factors."
She warned that the bloom is potentially an indicator of other factors in the ecosystem, but further information is needed on the species causing the blooms and a full water quality profile.
Key factors
"Currently scientists do not know fully what causes these algal blooms to this extent, but weather and pollution are key factors. Other players in the natural ecosystem will play a role but this needs to be understood specifically for Lough Neagh," she said.
"For microbiologists, due to climate change or changing patterns in climate, there will be many problems that they will face going forward. Cyanobacteria will be one of many.
"Mitigation methods will be required here for cyanobacteria to ensure clean and healthy drinking water. Additionally efforts will be required to design ways to prevent these blooms from occurring to this considerable extent.
"Some innovations are available commercially for aerating the water but rapid diagnostics for testing the waters as a citizen science approach as performed in the USA may also be a way forward."
Warning signs
DAERA said that where a bloom has been confirmed, local councils and water operators will be informed by the Northern Ireland Environment Agency (NIEA).
"Local councils and water operators are responsible for warning users, putting up signs and restricting access at PAE locations. They are also responsible for deciding when restrictions can be removed," a spokesperson said.
"Anglers are reminded that if they are at a river or lake and suspect there is blue-green algae they should report it through the Bloomin' Algae App and take the following precautions: avoid contact with the algae; do not eat fish caught recreationally from the water; observe and abide by any warning notices positioned around the water."
A current map of submitted records of Algal Blooms in Northern Ireland can be found here: Bloomin' Algae maps | NI | UK Centre for Ecology & Hydrology (ceh.ac.uk).