With a fresh new team who are enthused about communicating all things microbiology, our user-friendly online magazine will deliver the very latest news in microbiology, including exclusive content for Applied Microbiology International (AMI) members and daily updates on research and policy developments.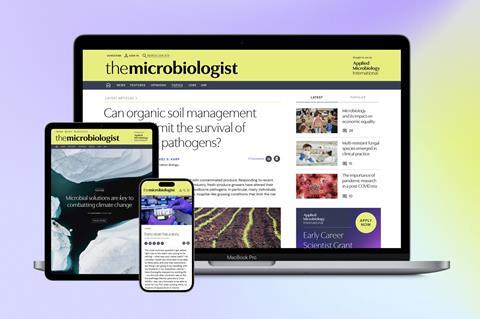 We also offer opinion from leaders in the field and fascinating features exploring the impact of microbiology as well as a comprehensive careers section that will support you as you explore where your career in microbiology could take you.
While The Microbiologist has been around since 2002, when it was launched as a rebrand of SfAM News, it has constantly evolved to keep abreast of the latest developments in technology and journalism - and its latest iteration is a great leap forward that will see the magazine play a key role in your daily routine.
The Microbiologist has moved from a quarterly print magazine that was mailed to AMI members to moving online back in 2014 when it became a monthly magazine that was available via a PDF reader.
However, for the latest evolution of The Microbiologist, we have launched a fresh platform to deliver all the latest AMI news in an up-to-date fashion as well as providing a fascinating insight into the discoveries that are being published in our journals.
Editor of The Microbiologist, Dr Paul Sainsbury explains that a new way of engaging with the applied microbiology community was needed, so the team has drawn inspiration from how other outlets have pivoted to online journalism.
"The rapid pace of how people digest information is the primary driver of any kind of communications outlet," he says.
"People don't read magazines the same way they did - the way they use search engines to find the content they're looking for. They look for something specific, they have shorter attention spans, they read media on their phones and expect a high degree of personalisation."
"So we looked at how we are communicating our members' work and our journals' work and whether we had the right instrument. These are the people whose work we want to promote, these are the companies we want to get their message across, this is how we want to engage. How are we going to be the voice of our subject, how can we make it interesting to all scientists, plus communicate some of the work of AMI?"
The Microbiologist utilises the latest in online magazine technology to deliver a fascinating platform that showcases the real-world implications for the discoveries that are being made right now.
"We've looked at what people are reading, we've identified the type of articles that they want, and segmented those pages into sections where people will be able to easily find the subject that they want," Dr Sainsbury says.
The Microbiologist also hopes to inspire young people and show them different career options within and beyond academia by profiling the very best and most innovative companies and research groups in our field.
"We want to help people and make them feel that they're not alone. We want to give them advice and inspire them and make them feel that they can do anything they want to," Dr Sainsbury says.
"That's the goal of our lab spotlights, for example. We want our readers to say, 'I'm really interested in that bit of research, I could go and work for these people'. By showcasing lots and lots of different careers and possibilities, we aim to inspire scientists and make them feel connected to a wider global international audience - being there at every stage of their career and helping them to translate and communicate their research to a wider audience and providing a really interesting read for people that love microbiology."