Forensic science student Edie Holmes (23), from south London, graduated from Liverpool John Moores University this summer and went on to do a Summer Placement sponsored by Applied Microbiology International.
She worked alongside Dr Komang Ralebitso-Senior, Dr Kirstie Scott, and Dr Nick Dawnay on a project with South Wales police; investigating whether microbial profiling could be used to link dirt bikes to vandalised sites of special scientific interest (SSSIs).
Promoted: AMI has teamed up with QIAGEN to help you get the highest yields from your soil DNA Extractions. Get your free guide here.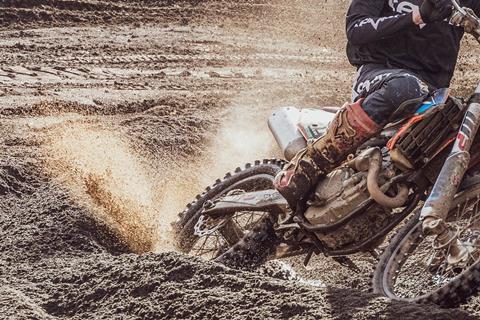 Her role was to extract DNA from soil samples taken from SSSI sites, amplify the 16s rRNA gene using PCR, and separate the fragments using RFLP.
Soil microbial profiling could prove to be an invaluable tool for linking vehicles with crime scenes or criminal activity, so this method would be widely beneficial to criminal investigations involving vehicles, as it could provide a microbial 'map' capable of placing suspect vehicles at a specific location.
The team found that the samples produced good DNA concentrations but were highly impure, and therefore needed to be cleaned both prior to and post PCR to improve the resolution of the gel.
Edie says:
Sites of special scientific interest (SSSIs) are classified as areas of formal conservation throughout the UK that contain rare flora and fauna, or geological and physical features proven to be of scientific value.
SSSIs are legally protected under section 28 of the Protection of Wildlife and Countryside Act (1981). This legislation is a safeguard for important areas of natural heritage across England and Wales, making it a criminal offence for the environmental features of these sites to be damaged or altered, either intentionally or irresponsibly.
Following an increase in illegal off-road vehicle incidents causing damage to these protected environments and threatening wildlife, livestock, and local inhabitants, a partnership was established in March 2023 between Natural Resources Wales and South Wales Police.
The partnership aims to tackle illegal off-roading and reduce the damage caused to SSSIs wildlife and ecosystems. Antisocial behaviour, including illegal off-roading, affects SSSIs by damaging hillsides and stone walls, destroying the topsoil, resulting in a loss of biodiversity. These incidents are investigated by rural and wildlife crime officers, who may be less equipped to police these sites and effectively prosecute offenders causing damage.
This project aimed to assess the value of soil microbial characterisation as a forensic tool for investigating incidents of deliberate and reckless damage to protected SSSIs. The work intended to determine whether microbial profiling could be used to link illegal off-roading vehicles to vandalised sites by comparatively profiling soil from a given site, and soil from tyres of a suspect vehicle.
Soil microbial profiling could prove to be an invaluable tool for linking these vehicles with crime scenes or criminal activity. This would be widely beneficial to the protection and conservation of these protected sites, as it could provide a microbial signature capable of placing a vehicle at a specific location.
The objective was to profile SSSI compared to non-SSSI soils through the extraction and amplification of environmental microbial DNA.
Total environmental DNA was extracted using the MP Biomedical FastDNA Spin Kit for Soil from samples responsibly collected from a SSSI in South Wales. The DNA extracts were amplified through polymerase chain reaction (PCR) of the bacterial 16S rRNA gene.
The generated PCR products were subjected to restriction endonuclease digestion and then separated on agarose gels for restriction fragment length polymorphisms (RFLP) profiling of the soil microbial communities.
The significance of forensic soil analysis in this context is the potential to provide scientific evidence to support policing of SSSI crimes, which may contribute to the prosecution of offenders.
We found that the SSSI samples, which were peaty, produced DNA extracts of good quality concentration but low purity. Therefore, they required a clean-up step both pre- and post-PCR to improve the resolution on subsequent agarose gels.
Also, the samples taken from bicycle tyres at the control non-SSSI site provided much lower DNA concentrations than the soils collected directly from the same non-SSSI site. This was to be expected, as samples scraped from a vehicle tyre will have been exposed to numerous destructive factors that will alter the biodiversity of the sample, and samples taken from the site are likely to contain richer and more representative microbial communities.
16S rRNA gene amplification with Olson et al. (2014) and Muyzer et al. (1993) PCR primers successfully produced good quality amplicons. However, restriction digestion of the former amplicons did not produce detectable bands on accessible cost-effective RFLP agarose gels, possibly due to the low sensitivity of the agarose gel-based RFLP method.
Therefore, future work will build on our current successes of DNA and PCR protocol optimisations for SSSI soil samples, and explore alternatives such as capillary-RFLP. Additionally, alternatives such as polyacrylamide-based denaturing gradient gel electrophoresis (DGGE) will be tested for the potential to provide better resolution.
This AMI placement was a fascinating and rewarding experience for me. I gained experience with different molecular microbiology kits and methods, and appreciated the ups and downs of working as a part of a research group that was setting up a new project.
It was enlightening and inspiring to work alongside academics Dr Komang Ralebitso-Senior, Dr Kirstie Scott and Dr Nick Dawnay. I am incredibly grateful to have been selected for this placement and for all of their help and support.
Join us on 18 October 2023 at Liverpool John Moores University (LJMU) as we engender networking among academics, researchers and practitioners with a focus on climate change, and showcase evidence-driven mitigation and adaptation measures to address the impacts of climate change.
This multidisciplinarity event will be hosted by Dr Theresia Komang Ralebitso-Senior of LJMU and is the first of our AMI Global Ambassador Meetings.