Two microbiologists successfully applied to AMI for a Scientific Conference Abstract Scholarship to attend the 10th FEMS Congress of European Microbiologists in July - and now they tell us what they got out of it.
Sagar Aryal is doing his PhD at the Central Department of Microbiology, Tribhuvan University, Kathmandu, Nepal. He is a scientific blogger and the founder of an educational website, https://microbenotes.com/.
I was privileged to attend the 10th FEMS Congress of European Microbiologists held on 9 - 13 July 2023 in Hamburg, Germany. Firstly, I thank Applied Microbiology International for providing me with the Scientific Conference Abstract Scholarship. I met renowned scientists and speakers from all over the world related to my field, to research and visualize the oral and poster presentations as well as workshops and exhibitions. I also collaborated with some of the professors and institutions during the conference.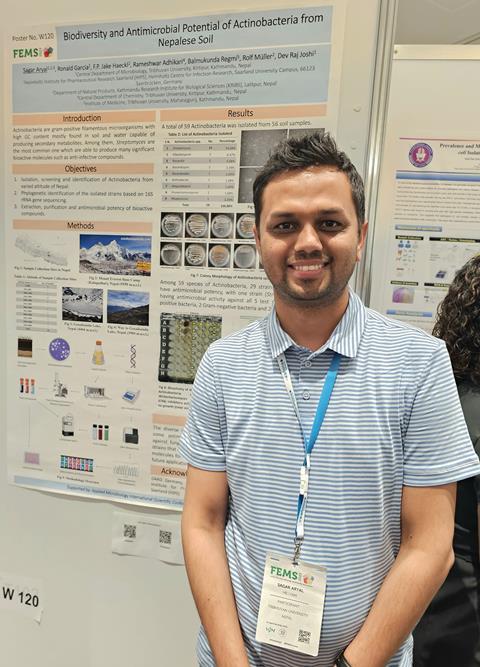 FEMS2023 was one of the biggest conferences I had ever attended. There were around 1,800 registered participants from more than 70 countries. The conference began with the Plenary Speaker, Rita Colwell, who presented her work on infectious diseases and cholera. Then the next Plenary Speaker was Kenneth Timmis, who talked about his initiative on the microbiology literacy program.
There were oral presentations from around 10 themes related to microbiology and its applied field. Each topic was conducted in a separate hall, and the person interested could visit the respective hall and enjoy the talk.
One of the best parts of the conferences was the workshops conducted between the presentations. Among many, I was interested in two workshops, Community Corner (International Microorganism Day) and the Science Communication workshop.
The science communication workshop was conducted by Joseph Shuttleworth and Eleni Koursari, who represent FEMS as Science Communications Project Manager and Science Communications Officer respectively. This workshop focused on how to communicate with people through video and podcasts. We also got hands-on training to edit the podcast recording and to understand the opportunities and challenges of conducting a science podcast.
In the Poster Networking event on July 12, I presented my poster on the topic, 'Biodiversity and antimicrobial potential of Actinobacteria from Nepalese Soil'. I got a lot of feedback and suggestions for my research by which I can make my project more exciting and unique.
This was my Ph.D. research work, in which I isolated 59 Actinobacteria from Nepal which have antimicrobial properties. Among 59 strains of Actinobacteria, extracts from 29 strains were found to have some antimicrobial properties against tested organisms. Our findings suggest further research in natural products to obtain novel secondary metabolites.
During the conference, I met Kenneth Timmis, who was awarded the 2023 FEMS-Lwoff Award for Achievements in Microbiology. I have been communicating with him for the last few years regarding our collaboration on the microbiology literacy program. Since I am also more interested in microbiology communication, I talked with him about how we can promote microbiology in society and to the general public more interestingly.
The best part of the conference was that I got a chance to meet representatives from Applied Microbiology International in the exhibition section. I met the dedicated team behind the society and the society journals.
Finally, I am happy to say that I have been one of the proud members of Applied Microbiology International since 2014..
Ayodele O Ogunlade is a lecturer at The Federal Polytechnic Ado Ekiti, Ekiti State, Nigeria
The 10th FEMS Congress of European Microbiologists which took place between 9th- 13th July at the Congress Centre Hamburg, Germany was one of the greatest and eventful Congresses I have ever attended. It was indeed where the microbiology community reconnects, as the theme states.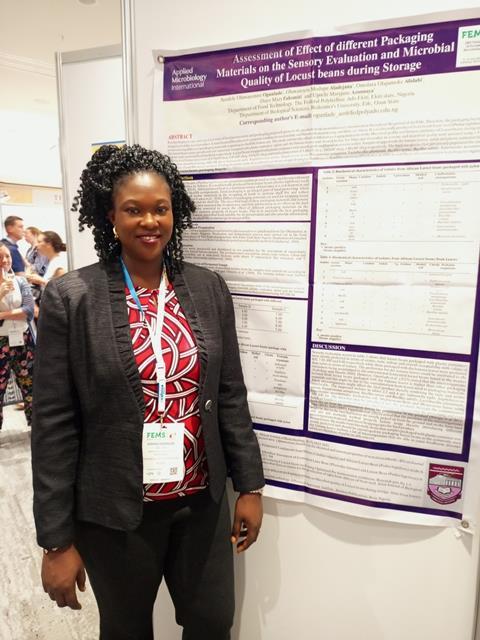 I had the opportunity to connect with various likeminded researchers from all over the world. Each keynote address and sessions held by various speakers were innovative, impactful, exciting and resourceful.
Not only was I able to learn from fantastic professionals in my field, but also derived from the wealth of knowledge from professionals from related disciplines which has indeed sharpened my knowledge and skills.
I have made life-long friends through the networking opportunities with peers from different related fields. This has given me a network of people I can count on when I have questions and or need to talk through an issue in my career path.
The conference was well planned and organized in a way that met the needs of peoples from every unit of microbiology, ranging from food microbiology, virology, genetics and genomics, infection biology to pathogens. The poster session, Flash presentations, presenting authors and speakers did justice to the topics handled by them.
Each day was clearly planned for various events that cut across the aforementioned groups and during the poster networking, We, the participants, had the opportunity to relate and share our knowledge and experience with each other, we exchanged contacts and took pictures together. I also had the opportunity to meet with speakers related to my field and took their contacts and I have started making contact with them through emails shared during the program.
The social events were also well organized, like the welcome reception, the coffee breaks and most importantly, the Congress Beach Barbecue night which was an event to remember for a long time.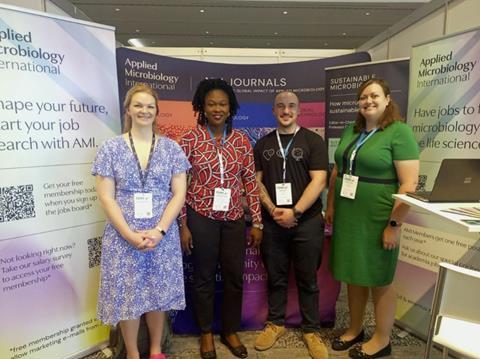 I really had a wonderful time at the congress. Different companies came to exhibit throughout the program and we were able to get contacts for future need of any of their equipment, reagents or chemicals and journals. During this period, I met with the Applied Microbiology International team and took pictures with them. Incentives were given by the exhibitors to the participants. It was indeed a beautiful and rewarding event.
The Closing Ceremony held on the last day of the congress was a beautiful ceremony in which the best poster presenters were awarded and the next FEMS event coming up by 2025 in Milan, Italy was announced. The event came to a close on Thursday 13th July at around 1:30 pm.
I am eternally grateful for the opportunity given to me by Applied Microbiology International for sponsoring me to this great event. I look forward to more opportunities, grants and scholarships in the future.