Inquisitive dairy calves could be driving the spread of a zoonotic pathogen in their herds, a new study has revealed.
The study, by researchers in New Zealand, has revealed a link between faecal excretion of Campylobacter jejuni and the personality traits of young dairy calves. It also found a link between the immunity of the calves and faecal excretion of the zoonotic pathogen which has developed resistance to multiple antimicrobial treatments and is now flagged as a serious threat to global health.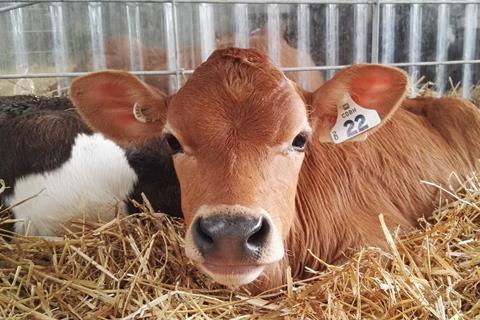 These findings are revealed in ''Faecal excretion of Campylobacter jejuni by young dairy calves and the relationship with neonatal immunity and personality traits', which has been accepted for the Journal of Applied Microbiology, an Applied Microbiology International publication.
Pathogens and personality
The project, co-led by Drs Delphine Rapp and Karin Schutz, investigated the association between faecal excretion of Campylobacter jejuni and immunity and personality traits of young (<1 month) dairy calves in New Zealand. The intention was to establish whether animal personality or physiology can be used to predict faecal excretion of zoonotic pathogens by cattle.
"The findings indicate that the excretion of C. jejuni by young calves was associated with immunity and possibly with animal personality traits related to exploration," says Dr Rapp.
Ruminants, including dairy calves, are asymptomatic reservoirs of C. jejuni, a zoonotic pathogen that has developed resistance to multiple antimicrobial treatments and is now flagged as a serious threat to global health.
Usual suspects
"Previous studies documented the excretion of C. jejuni by individual dairy animals. They have repeatedly shown an animal effect," Dr Rapp says.
"While the majority of animals are intermittently positive for C. jejuni, a small minority excrete C. jejuni permanently or at high concentration. These animals drive the spread of C. jejuni in dairy herds and represent the greatest risk for human health and environmental contamination.
"The difference in C. jejuni excretion among animals in the same herd has yet to be fully understood. Identifying animal factors underlying colonisation and shedding of C. jejuni by animals could lead to novel strategies for on-farm control."
Increasing contamination
Forty-eight dairy calves were group-reared indoors in three different pens, managed on straw bedding and fed 4 L to 6L milk daily.
Microbial analyses of the faecal samples collected weekly for 5 weeks revealed that the proportion of calves naturally contaminated with C. jejuni in each pen increased quickly, and reached 70% in calves that were at least 3 weeks old.
Colostrum role
"Immediately after birth, and in the following weeks, calves are exposed to high environmental levels of faecal pathogens, which, if ingested, can lead to colonisation of their gastro-intestinal tract, and to excretion of these pathogens in the faeces.
Calves can be protected against faecal pathogens through ingestion of colostrum, the first milk produced by cows after calving, and which contains various immunoglobulins in concentrations higher than in normal milk.
"To assess whether absorption of immunoglobulins (Ig) across the calves intestinal walls could protect against C. jejuni colonisation, the levels of IgG was measured in the blood of neonatal calves," Dr Rapp says.
"Calves that had IgG levels >16 g.l-1 were less likely to excrete C. jejuni than calves with IgG levels <16 g.l-1(P=0.004).
Calf personality
"We also hypothesised that calves that would explore their environment more would be more likely to be contaminated with C. jejuni. Calf personality traits related to exploration were assessed by avoidance and approach tests of novel objects and persons.
"The amount of time calves spent interacting with a novel object contributed to the presence/absence of C. jejuni in faeces; calves positive for C. jejuni tended to interact for a longer period of time with a novel object."
The findings confirmed that neonatal calf immunity is associated with the risk of C. jejuni excretion and that exploration traits may be positively associated with contamination with C. jejuni.
"Identifying measurable animal characteristics and animal personality traits associated with increased risks of pathogen excretion could be a game-changer for early control and prevention of the zoonosis emergence and dissemination in dairy herds. It means that zoonotic risks could be addressed pre-actively rather than reactively in the food supply chain," Dr Rapp says.
Countering antimicrobial resistance
"In the context of a One Health approach, dairy animals excreting faecal bacteria carrying antimicrobial resistance genes – such as C. jejuni - may be a direct source of infection to humans, in particular to primary industries workers.
"Methods leveraging animal health and welfare to limit the spread of C. jejuni among animals could help in controlling the dissemination of antimicrobial resistance."
The next step will be to carry out more research to establish the reasons why the animal's immunity would protect against asymptomatic excretion of C. jejuni, and to confirm the relationship between excretion of zoonotic bacteria and calf personality.
Reducing pathogen load
Findings would guide management strategies tailored to individual animals or farming situations, and would ultimately reduce the pathogens load in a herd.
The study was funded by the Ministry of Business, Innovation and Employment (MBIE) of New Zealand through the AgResearch Strategic Science Investment Fund (SSIF).
'Faecal excretion of Campylobacter jejuni by young dairy calves and the relationship with neonatal immunity and personality traits', appears in the Journal of Applied Microbiology,