A £1.7m laboratory building which will investigate infectious diseases has opened at the University of Warwick – helping to tackle some of the most globally important human diseases and prepare for pandemics of the future.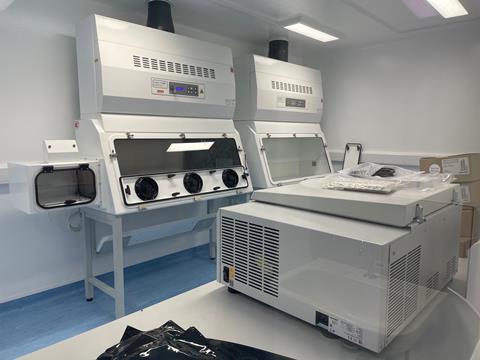 The new containment suite will enable scientists to conduct cutting-edge research into infectious diseases, including tuberculosis (TB), influenza and COVID-19. It is hoped that the Containment Level 3 (CL3) laboratory – so called because it will allow research on pathogens rated at Hazard Group 3, which are high risk biological agents – will help scientists safely research some our most important infectious diseases including preparing for viral outbreaks and pandemics.
Academics from Warwick Medical School and the School of Life Sciences will have access to the CL3 lab, enhancing Warwick's position in the top league of biomedical research universities. The CL3 lab formally opens on Wednesday 7 December and will be fully operational in the New Year.
Chris Ennew, Provost at the University of Warwick, said: "Over recent years, we have all witnessed the destructive power of diseases, including COVID-19, and the value of the UK's exceptional strengths in biomedical research. This state-of-the-art facility will contribute to the UK's research efforts in this important area and will allow for the training of new generations of researchers, able to respond to pandemics with novel diagnostics, therapies and robust social guidance.
"The University has bold ambitions across the STEM subjects and today sees another step forward with this investment for our world-leading research in medical and life sciences. While the lab is primarily a joint facility for Warwick Medical School and the School of Life Sciences, the reality is that many more research departments will benefit from the CL3 lab – including Chemistry, Engineering and Maths as well as collaborators based at other institutions."
Richard Napier, Deputy Head of School of Life Sciences at the University of Warwick said: "Disease-causing organisms have been around for as long as life on earth. Research to reduce the suffering threatened by dangerous human and animal pathogens remains the top priority of healthcare risk management policies worldwide.
"Despite Warwick's history of elegant biomedical research, recent circumstances have shown that we still have much to learn about how these pathogens work and how we can control them. These new labs provide world-class facilities for research that will promote better disease control for medicine and for agriculture."
Dr Meera Unnikrishnan, Associate Professor at Warwick Medical School, said: "I will be involved in research into tuberculosis (TB) in the new CL3 laboratory. TB is one of the leading causes of death globally, so understanding this pathogen and discovering better drugs to treat it are a priority. We are excited about the opening of the CL3 lab, with cutting-edge facilities that will enable us to safely study the bacterium responsible for this infection, as well other viruses and parasites that cause life-threatening infections."
Further details of the research departments can be found here https://warwick.ac.uk/fac/sci/lifesci and https://warwick.ac.uk/fac/sci/med