Goat and sheep dairy farms are a potential transmission source for a bacteria that can cause human gastroenteritis, according to a new study.
A team of scientists from Wageningen Food Safety Research extenslvely profiled goat and sheep dairy farms for the presence of Shiga toxin-producing Escherichia coli (STEC) by analysing both animal samples and human samples.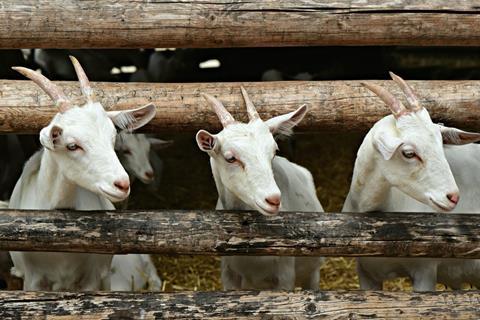 The study, 'Virulence and antimicrobial resistance of Shiga toxin-producing Escherichia coli from dairy goat and sheep farms in the Netherlands', has been accepted by the Journal of Applied Microbiology, an Applied Microbiology International publication.
Human gastroenteritis
STEC is a renowned causative agent of human gastroenteritis and can be spread by direct contact with livestock or via food, explained corresponding author Dr. Menno van der Voort.
"This study was performed to characterize the STEC isolates derived from goat and sheep dairy farms from both human and animal-derived samples in the Netherlands to assess if the small ruminant farm environment is a potential transmission source for STEC," he said.
For all 206 inspected farms, animal samples were found to be positive for stx1 and/or stx2, as determined by PCR screening. In total, 287 unique STEC isolates were successfully recovered from animal samples from 206 farms, with 164 STEC isolates positive for stx1, 34 isolates positive for stx2, and 89 isolates positive for both stx1 & stx2 were identified.
For isolates from animal samples, the three most abundant serotypes found were O146 (70 isolates), O76 (35 isolates), and O166 (30 isolates), along with serotypes of clinical importance, such as O26, O91, O111, O113, O128, O157, and O182.
Found in eight people
In the human study, STEC was isolated from eight persons among the 144 participants. All human isolates obtained were stx1 positive and five isolates were found to be also stx2 positive. All human isolates were negative for the important virulence factor – eae. The human isolates belonged to the serotypes O146 (4 isolates), O5, O21, O113 and O166.
"Whole genome sequencing (WGS) was performed for 58 isolates, including all human isolates and a selection of animal-derived isolates based on the diversity of their serotype and stx gene profile," Dr. van der Voort said.
"The WGS data of the isolates was evaluated for the presence of virulence genes, and a diversity of genes was observed."
Three linked to one farm
Three of the human isolates could be linked to an animal-derived isolate from the same farm, and in those cases, the human and animal-derived isolates were very closely related (2 to 4 SNPs).
Antimicrobial resistance profiles identified from the WGS data revealed six isolates (12%) harbouring genes related to resistance.
This included ampicillin, fosfomycin, sulfamethoxazole, spectinomycin, streptomycin, tetracycline, and trimethoprim resistance. The assessed phenotypic antimicrobial resistance, as determined with broth microdilution, was in accordance with the genetic profiles identified by WGS.
Antimicrobial resistant
"This study found that STEC isolates from dairy goat and dairy sheep farms in the Netherlands were characterized as antimicrobial resistant and potentially virulent," Dr. van der Voort said.
"Moreover, in four instances closely related human and animal-derived isolates were identified from the same farm. Therefore, this study confirms that small ruminant farms are a potential source of transmission of STEC into the human reservoir.
"However, the STEC isolates found in this study did predominantly not fit the highest virulence profile for STEC.
"Monitoring STEC prevalence and diversity is of importance as input for source tracing and attribution, and this data can be used as input for advice and preventive measures. Moreover, future risk assessments can be specified to virulence-type level by use of the virulence profiles of the different STEC isolates from diverse environments."
The study was a collaboration between Wageningen Food Safety Research (WFSR) and the National Institute for Public Health and the Environment (RIVM). The research was governed by the Dutch Food and Consumer Product Safety Authority (NVWA).
'Virulence and antimicrobial resistance of Shiga toxin-producing Escherichia coli from dairy goat and sheep farms in the Netherlands' apears in the Journal of Applied Microbiology,