An iron-scavenging endophytic bacterium could be the latest class of weapon in the fight against multi-drug resistant tuberculosis, researchers have found.
A compound from an endophyte growing inside a plant that grows in highly saline coastal land can help with killing pathogenic bacteria, including Mycobacterium tuberculosis, which causes TB, a new study published in Letters in Applied Microbiology, an Applied Microbiology International publication, reveals.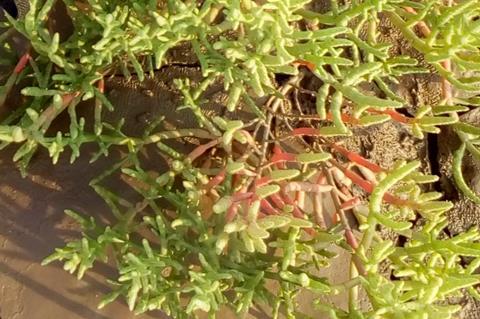 The study was led by Dr Pramod B Shinde, Senior Scientist, and was performed by a team of postdoctoral fellow and PhD research scholars at CSIR-Central Salt and Marine Chemicals Research Institute, Bhavnagar, Gujarat, India.
According to the World Health Organisation, tuberculosis infected a total of 10 million patients in 2019. Mycobacterium tuberculosis, the bacterium that causes tuberculosis disease, is transmitted through the air and has developed resistance to multiple drugs, making tuberculosis a major issue in the healthcare sector.
"To discover the antimycobacterial compounds, we isolated the bacteria called endophytes living inside the plant Salicornia brachiata which grows in arid coastal, highly saline land, and then checked its potential to kill the Mycobacterium," Dr Shinde said.
"We hypothesised that the plant living in harsh conditions like high salt concentration must have developed ways to inhibit microbial infections as well, to prevent competition from other plants, and thus would be able to utilise the metabolites produced by its endophytes.
"Bacillibactin, a siderophore molecule, was isolated from the endophyte living in the salt-tolerant plant Salicornia brachiata found in the coastal area."
Sanju Singh, PhD student, said: "The compound usually helps in the iron transportation in the microbes, but recently it was discovered to show antimicrobial and antifungal properties against both plant and human pathogens. Most importantly, the crude extract containing this compound was found to kill the avirulent Mycobacterium tuberculosis."
The team explored the inhibition capacities of bacillibactins at various concentrations to Mycobacterium smegmatis (a safer model strain as a surrogate to highly infectious M. tuberculosis).
The bioassay was performed using the microplate method to find out the minimum inhibitory concentration of bacillibactins to the Mycobacterium bacteria.
"It was found out that the mechanism of action used by bacillibactin to kill Mycobacterium is due to iron scavenging, which means bacillibactin blocks the iron acceptance by Mycobacterium, hence the cell dies due to lack of iron. The experiment was further supported by statistical analysis," Dr Shinde said.
"The findings of this study open up a new chemical class for the inhibition of Mycobacterium sp. and other multidrug-resistant pathogens.
"However, further study is required to make them lead compounds for treating mycobacterium infections.
"Furthermore, preclinical and clinical trials of these compounds will be required for their complete development as medicines to treat tuberculosis. Since the source of the compounds is of natural origin, it will be a greener and more sustainable alternative to chemical medicines."
'Bacillibactin class siderophores produced by the endophyte Bacillus subtilis' as antimycobacterial agents' has been published in Letters in Applied Microbiology.
This study was funded by Council of Scientific and Industrial Research, Dept. of Biotechnology, and Dept. of Science and Technology, India.