A vaccine for Lyme disease is one step closer after Pfizer Inc and Valneva SE reported positive results in their antibody persistence data six months after completing a three-dose or two-dose schdule in children and adults with vaccine candidate VLA15.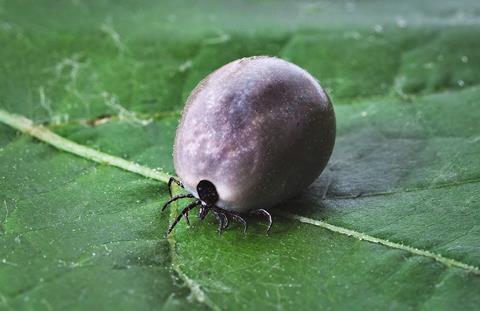 Antibody levels remained above baseline six months after completion of a three-dose (Month 0-2-6) or a two-dose (Month 0-6) vaccination schedule using VLA15. The companies said this was the first time antibody persistence data had been reported in paediatric populations for this vaccine candidate.
Higher antibody levels were observed in the three-dose vaccination schedule versus the two-dose vaccination schedule, further validating the use of this schedule in the ongoing Phase 3 study. There were no safety concerns observed in this six-month observational follow up.
Lyme disease is a systemic infection caused by Borrelia burgdorferi bacteria transmitted to humans by infected Ixodes ticks and is considered the most common vector-borne illness in the Northern Hemisphere.
While the true incidence of Lyme disease is unknown, it is estimated to annually affect approximately 476,000 people in the United States and 130,000 people in Europe.
Early symptoms of Lyme disease, such as a gradually expanding erythematous rash called Erythema migrans or more nonspecific symptoms like fatigue, fever, headache, mild stiff neck, arthralgia or myalgia, are often overlooked or misinterpreted. Left untreated, the disease can disseminate and cause more serious complications affecting the joints (arthritis), the heart (carditis) or the nervous system. The medical need for vaccination against Lyme disease is steadily increasing as the geographic footprint of the disease widens.
Unmet medical need
Juan Carlos Jaramillo MD, Chief Medical Officer of Valneva, said, "We are pleased with these antibody persistence data that further validate the use of the three-dose vaccination schedule in our ongoing Phase 3 study and the acceptable safety and tolerability profiles of our vaccine candidate.
"Lyme disease continues to spread, representing a high unmet medical need that impacts the lives of many in the Northern Hemisphere, and each new report of positive data takes us a step closer to potentially bringing this vaccine to both adults and children who could benefit from it."
Annaliesa Anderson, PhD, Senior Vice President and Chief Scientific Officer of Vaccine Research & Development at Pfizer, said: "Rates of Lyme disease continue to increase globally, underscoring the importance of a vaccine that may help protect both adults and children," "These six-month antibody persistence data are encouraging, and we hope that the data generated from the Phase 3 studies will further support the positive evidence for VLA15 to date."
VLA15 is the only Lyme disease vaccine candidate currently in clinical development. This investigational multivalent protein subunit vaccine uses an established mechanism of action for a Lyme disease vaccine that targets the outer surface protein A (OspA) of Borrelia burgdorferi, the bacteria that cause Lyme disease.
OspA is a surface protein expressed by the bacteria when present in a tick. Blocking OspA inhibits the bacterium's ability to leave the tick and infect humans. The vaccine covers the six most common OspA serotypes expressed by the Borrelia burgdorferi sensu lato species that are prevalent in North America and Europe. VLA15 has demonstrated a strong immune response and satisfactory safety profile in pre-clinical and clinical studies so far.
Developing a vaccine
Valneva and Pfizer entered into a collaboration agreement in April 2020 to co-develop VLA15, with updates to the terms within this agreement made in June 2022.3,4 The terms of the collaboration agreement include a $25 million milestone payment made to Valneva upon Pfizer's initiation of the Phase 3 study. The program was granted Fast Track designation by the U.S. FDA in July 2017.5
Following positive immunogenicity and safety data for Phase 2 study VLA15-221 in April 2022, Valneva and Pfizer evaluated the persistence of antibodies six months after the Month 0-2-6 and the Month 0-6 vaccination schedule with VLA15 in healthy adults and pediatric participants (5 to 65 years of age).
Data were collected in 96 healthy adults and 81 pediatric participants (5-17 years of age) for the Month 0-2-6 vaccination schedule and in 84 healthy adults and 78 pediatric participants (5-17 years of age) for the Month 0-6 schedule.
As observed in previous clinical studies with VLA15, antibody levels declined over time in all study groups but remained above baseline, confirming their persistence six months after completion of both vaccination schedules. Overall, antibody levels remained higher with the three-dose vaccination schedule compared to the two-dose schedule.
Geometric mean fold rise (GMFRs) compared to baseline were 1.9-fold for Serotype 1 (ST1) to 3.2-fold Serotype 2 (ST2) across all age groups in the Month 0-2-6 vaccination schedule. The highest GMFRs were reported in the 5 to 11 years old age group, with GMFR levels at 2.8-fold (ST1) to 6.6-fold (ST2).
Phase 3 study
The companies say these results further validate the use of the three-dose vaccination schedule which is also included in the Phase 3 protocols for all participants.
No vaccine-related serious adverse events (SAEs) and no safety concerns were observed in this six-month observational follow up.
Earlier this year, Pfizer and Valneva initiated a Phase 3 clinical study, Vaccine Against Lyme for Outdoor Recreationists (VALOR) (NCT05477524), to investigate the efficacy, safety and immunogenicity of VLA15.
Approximately 6,000 participants 5 years of age and older will receive three doses of VLA15 180 µg or saline placebo as a primary vaccination series followed by one booster dose of VLA15 or saline placebo (1:1 ratio). Enrollment is ongoing in Europe and the United States and expected to be completed in the second quarter of 2023.
To achieve the required paediatric safety database, Pfizer and Valneva are planning to initiate a complementary Phase 3 clinical study in early December 2022 to collect additional VLA15 safety data in participants 5 to 17 years of age.
Pending successful completion of the Phase 3 studies, Pfizer could potentially submit a Biologics License Application (BLA) to the U.S. Food and Drug Administration (FDA) and Marketing Authorisation Application (MAA) to the European Medicines Agency (EMA) in 2025.