Dr Mark Gidley is a Clinical Lecturer at Newcastle University School of Dental Sciences. However, he started his career as a microbiologist. Here he tells us how he made the transition from microbiologist to dental surgeon and then to academia.
Background
My first degree was in Biochemistry and Microbiology, from the University of Sheffield. I then stayed on in Sheffield to complete a PhD on oxidative and nitrosative stress resistance in Helicobacter pylori and Campylobacter jejuni.
Decision
As I came to the end of my PhD, I considered a wide range of career options. Jobs in pharmaceutical research and development seemed to be increasingly scarce, and I was concerned about the stability of small biotechnology companies. I took on a short-term postdoctoral research post in the lab of Professor Robert Poole in Sheffield. This was a great lab to work in, and was a very interesting project, with some time spent working in the Division of Infection and Immunity at Sheffield Medical School. It was tempting to continue on this career path, but I was concerned about fixed-term contracts, the need to move around for future posts, and the difficulties in securing a longer-term position. This was when I considered re-training in either medicine or dentistry. This posed a significant challenge in terms of finance, and I was uncertain about returning to university after already having completed a degree and PhD. I felt that medicine would be more interesting but was concerned about qualifying later in life and having to do long hours and weekends when I was a bit older. The decision was difficult but, ultimately, I decided to apply for dentistry.
Re-training
The decision to re-train was difficult, and the first years back as a student were very challenging both financially and socially. I had accepted a place at the University of Sheffield, where I had previously completed my degree and PhD, so had existing friends around when I felt old starting on a course with predominantly younger students who had just finished their A-Levels. I found the academic aspect of the course busy but manageable, and the operative skills training was initially challenging. In the early years of the dental degree there were plenty of times when I wondered if I had made the right decision.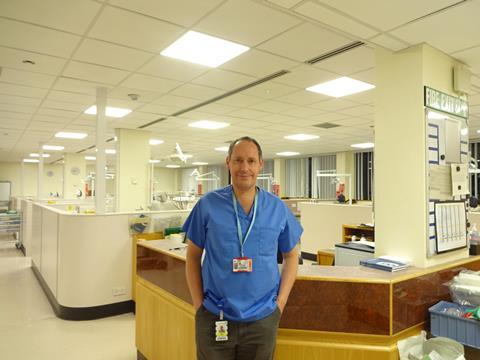 Dental Surgeon
Dental graduates complete a Dental Foundation Training year following graduation, which I completed at a large NHS dental practice in North Shields. At the time, I fully intended to go into an oral and maxillofacial surgery post in a hospital, but the team at the practice were great and I had really enjoyed my first year working in practice. I stayed on as an Associate Dentist, completing predominantly NHS dental treatment. From an early stage in my career as a dental practitioner, I became involved in teaching and training more junior colleagues. I completed a teaching qualification and became an Educational Supervisor for Dental Foundation Training. I found this aspect of my job extremely rewarding and really enjoyed working alongside newly qualified dentists and providing mentoring and clinical supervision and delivering teaching sessions in the practice, supporting new graduates in the transition to becoming an independent dental surgeon. My existing connections at Newcastle School of Dental Sciences led to conversations with clinical academics there regarding teaching opportunities. In 2018 I was appointed as a part-time Clinical Lecturer at the dental school in Newcastle, whilst also still working two days in practice and fulfilling my commitments as an Educational Supervisor. I then moved to a full-time Clinical Lecturer post at the dental school in Newcastle in 2019. I initially maintained a commitment of working one evening a week in private practice.
Microbiology for Dentistry
The dental degree programme in Newcastle provides a thorough coverage of microbiology for pre-clinical students, with 'Microbiology for Dentistry' being one of the largest pre-clinical courses. When I became course lead for 'Microbiology for Dentistry' I used my background as a microbiologist to further develop this course, to ensure that dental students have a thorough understanding of the clinical relevance of microbiology prior to them starting their clinical training. The course is varied, with a large number of lectures, seminars and practical classes. It has been an interesting experience to develop the course as the pandemic unfolded, increasing coverage of virology and viral disease outbreaks, covering the impact that COVID-19 has had on dentistry, as well as developing the core three themes of infectious agents and diseases, oral microbiology and infection control. There have been challenges such as developing online equivalents of lab practical classes during the pandemic and adapting the course to be delivered online.
Final thoughts
The Clinical Lecturer post is incredibly varied, ranging from commitments to teaching pre-clinical BDS students and organising and leading Stage 2 of the BDS degree programme, to academic and clinical teaching in periodontology, to clinical teaching and supervision on restorative dentistry clinics. I feel fortunate to have a role which fully utilises my background in science and my clinical experience from my career as a dentist and Educational Supervisor for Dental Foundation Training and I am certainly grateful for the varied opportunities that I have had.
Would I recommend re-training for a clinical career following a background in microbiology? I would certainly say yes and am glad to have made the career decisions I have, despite the long career path. I would recommend dentistry as a career, particularly in terms of job security, choice and availability of jobs and control over where you live and work. There is a huge amount of job satisfaction with providing the best possible care for patients. My PhD in microbiology has opened so many doors, and my background in microbiology has never been more relevant and has helped me to secure such a varied and rewarding post as a Clinical Lecturer. It has been fantastic to now have the chance to utilise my knowledge and skills in microbiology, as well as my background as a clinician, to play a key role in teaching and training future dental professionals.
What advice would I give for any scientist looking to re-train in medicine or dentistry?
Be aware that the skill set you have will be hugely relevant to a future clinical career.
Consider if you have good communication skills and would be capable of communicating effectively with a wide range of people.
Consider if you can work effectively as part of a team.
Consider if you can make quick decisions and work effectively under pressure.
Even though it may feel difficult 'going back to school' rest assured that the course will become more enjoyable as you progress to the clinical stages.
Look into options for using your existing skills as a scientist for part-time employment during your clinical degree.
Do more paid work in the early years as this may be more difficult to organise around clinical commitments later in the course.
Whilst finances may be difficult rest assured that the employment options post-qualification are excellent.