A regulatory pathway needs to be developed if the UK is to reap the benefits of bacteriophage therapy, Applied Microbiology International (AMI) has warned.
France, Belgium and Poland are already developing programmes that take advantage of the potential of phage therapeutics, while bacteriophages - viruses that are capable of destroying bacteria - have been a common treatment in the Soviet Union for years.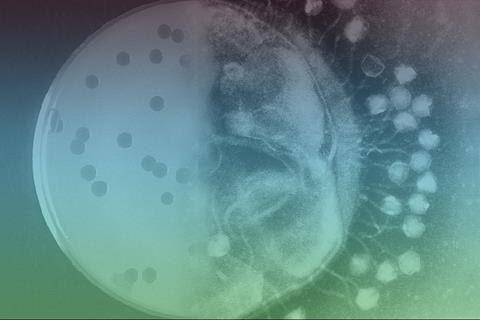 While a number of UK research centres have been actively exploring the potential of phage therapies, there is currently no regulatory route in the UK that allows them to make use of the treatments.
Consultation response
AMI made the call as it issued its response to a consultation by the UK Government as part of an inquiry to explore the regulatory barriers and opportunities for bacteriophage therapy in the UK, in order to explore their potential as an alternative or addition to conventional antimicrobial drugs.
AMI's pitch to explore bacteriophages as an alternative to antimicrobial drugs was selected by the Commons Science and Technology Committee as the winner of the My Science inquiry, and led to the current inquiry into bacteriophages and the potential they hold to tackle the problem of antimicrobial resistance.
James Ebdon, a Professor of Environmental Microbiology at the University of Brighton, delivered AMI's winning pitch for the inquiry and was a key contributor to AMI's submission.
The outcome of the pitch process was announced at the Royal Society of Biology Biosciences Parliamentary Reception 2022.
Benefits as treatment
In its consultation response, AMI outlined the benefits of bacteriophages as a treatment, including their effectiveness at targeting bacteria that are resistant to antibiotics, their specificity, minimal impact on the gut microbiome, cost-effectiveness and abundance.
"Although bacteria can become resistant to bacteriophages, bacteriophage use only risks promoting resistance in the target bacterial species, whereas antibiotic use promotes resistance in many bacterial species since antibiotics aren't as specific. Additionally, although bacteria can evolve to become resistant to bacteriophages, bacteriophages can also evolve to overcome bacterial resistance mechanisms," AMI said.
There are currently no explicit regulatory guidelines that cover phage therapy and phage-based therapeutic formulations in the European Union or United States, and as a result some EU Member States are determining solutions nationally, AMI said.
Current research
AMI outlined some of the phage research that is already being carried out in the UK, including the large library of phages for therapeutic use that has been developed by researchers at the University of Exeter and which has supplied phages to Belgium, Canada and Switzerland.
This library, developed via citizen science, is also actively hunting phages for two UK hospitals but has currently no regulatory route to use them.
Meanwhile, NHS Tayside have received initial funding to create a Bacteriophage Unit within its health board, starting in February 2022.
One key advantage the UK has if it decides to pursue phage therapeutics is its unique NHS, which could help the Government to incentivise phage funding, for example through the adoption of novel funding structures such as those already being used to fund new investment in conventional antibiotics.
"For example, NHS England in collaboration with the National Institute for Health and Care Excellence and the Department of Health and Social Care (DHSC) has selected the first antimicrobial drugs to be purchased via the UK's innovative, novel 'subscription-style' payment model, where instead of paying for individual packs of antimicrobials, healthcare funders make an annual payment based on the health benefits to patients and the value to the NHS. This would de-link the price paid from the volumes sold and such an approach could work very well with phage-based products," AMI suggested.